Sea ice topography
WIRL MSc student Martin St-Amant (co-supervised by Adrienne Tivy) is researching ways of mapping sea ice topography using surveys conducted from uninhabited aerial vehicles (UAV).  In a 2 week field season in May 2017, Martin and field assistant and UAV pilot Adam Garbo flew their craft over sea ice ridges in Frobisher Bay near Iqaluit, Nunavut to take photographs under various conditions. Martin will use the structure from motion (SfM) photogrammetry technique to create point clouds of data that can be used to study ice morphology.  UAV-borne SfM surveys can be conducted at low-costs, with non-specialized tools and minimal expertise. Therefore, Martin will evaluate its potential for becoming a useful sea-ice topography measurement technique.
Support
This research in Iqaluit was made possible through in-kind support from the Nunavut Research Institute, along with financial support from ArcticNet, NSERC, NSTP, and the Canadian Foundation for Innovation.  A special thanks to Ted Irniq who provided field support and guidance.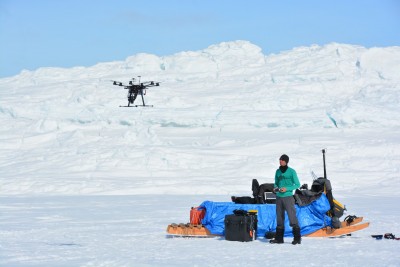 Adam Garbo flying the DJI S800 UAV in Iqaluit (M. St-Amant)
The slideshow below illustrates the enormous tide in Frobisher Bay.  The camera is on the sea ice pointing to the shore.
This slideshow requires JavaScript.